Frazzled Hair? I Know How to Fix This Problem! Check My Top Hair Masks I Handpicked for You
Let me tell you right at the beginning that if you're looking for some miraculous product to repair your damaged and frazzled hair, then you've come to the right place. So, sit back, relax and carry on reading.
I remember myself having dehydrated, brittle and splitting hair. The remembrance of that times makes me shiver! Luckily, it's far behind me now. For the last few months my hair has been healthy, strong and gorgeous! If you asked me what my remedy is, I'd point at the self I have near my bath – the one where I store my hair masks on. Since it would be hard to gather you all in my bathroom, I'll just quickly review my favorite hair masks.
Things that made my hair frazzled
I don't wanna lie, I damaged my hair because I couldn't stop myself from straightening and bleaching it too often. Yep, I'd been exposing my poor strands to this type of destructive treatment for many, many years, ending up with extremely hydrated, weak and brittle hair. I remember myself being almost convinced that there was no treatment in the entire whole world that would rescue me and bring my full-looking and shiny mane back. Luckily, I snapped out of this and started looking for some solutions. First, I resigned from the invasive procedures, I changed my hair care habits and started applying repair cosmetics. I believe that hair masks helped me the most.
A few more words on me changing my hair care habits. Apart from making hair masks an integral part of my daily beauty routine, I also:
don't use a flat iron more than once a week.
always use a heat protection spray before heat styling.
use only lukewarm water to remove a shampoo or a mask from my hair.
got rid of the split ends, but I don't regret it.
put on one of my repairing masks after washing my hair.
Things that made my hair strong again
Here is a list of 4 hair masks that made my hair healthy again. To me, these are the best masks for damaged hair that I've had so far. However, if you know other products that are able to deal with brittleness, dryness and splitting, go ahead and leave their names in the comments.
MY CHOICE NO 1 | Nanoil Keratin Hair Mask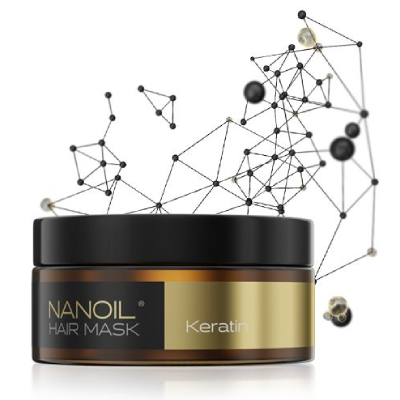 If you're looking for a budget product that is able to boost shine and add more body to frazzled hair, then I suggest having a go at Nanoil Keratin Hair Mask. I ordered it because I wanted to try something with hydrolyzed keratin that doesn't cost a fortune. After analyzing the INCI, I thought that this is the product I was looking for, and you know what? My feelings were right! I fell in love with Nanoil Keratin Hair Mask the first time I used it because it needed just 15 minutes to improve the appearance of my hair!
The more I'd been using this mask, the better my hair started to look, and in general were turning more healthy after every application. Now, after a few weeks I enjoy fuller-looking and glossy mane that is resistant to damage. Application itself is far from being complicated. I wash the hair, use a soft towel to squeeze out water and then scoop up a portion of Keratin Hair Mask to spread it along the lengths. No matter if I leave it for 5 minutes or 25 minutes, this mask seems to always give me what I expect it to. To sum up, I think this is the best budget-friendly mask for damaged hair that I've tested by far – you can have it for around £12/$16!
Learn more: www.nanoil.co.uk
MY CHOICE NO 2 | Alterna Caviar Replenishing Moisture Masque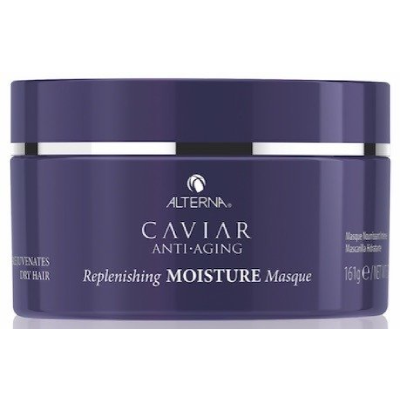 A hair mask with caviar? It must work wonders, right? The one brought out by Alterna looks like a really luxurious product. I won't lie, I was impressed when I found out that there are hair products enriched with caviar and, of course, I had to have one! I found out that caviar is rich in nutrients that have numerous benefits for hair. When incorporated into this hair mask in particular, they moisturize and keep the water inside for long-lasting hydration. Additionally, Caviar Replenishing Moisture Masque protects against aggressors such as UV and adds shine.
When I was using only this mask for a month or so, I noticed that my hair became noticeably less brittle – I loved this effect! Another thing that I like about Alterna Caviar Replenishing Moisture Masque is that you don't have to keep it long on the hair – just 3-5 minutes and then rinse it off with lukewarm water. Oh, here's a word of warning: If you don't rinse it out completely, you may end up with flattened hair, so please keep this in mind. In general, I like the effects this mask created on my hair. If you want to check how it works on yours, prepare yourself to spend around £40/$55 because this is how much Alterna Caviar Replenishing Moisture Masque costs, at least on Amazon.
MY CHOICE NO 3 | Kérastase Résistance Masque Thérapiste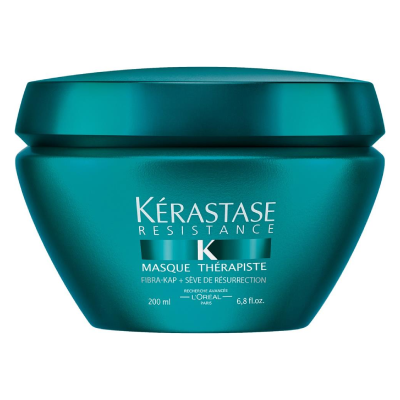 And here's another amazing product designed for weak and damaged hair. Don't be put off by the long list of ingredients because in the case of Kérastase it actually works to your advantage – seriously! Being formulated with a number of top-quality nutrients, Kérastase Résistance Masque Thérapiste is able to deliver super quick effects, leaving you with visibly a better-looking mane. I didn't have to use it long to see smoother, glossy and manageable hair. And this beautiful smell it leaves on the strands… totally to my linking!
But you know what's weird to me? I can't understand one thing, which is why the effects aren't long-lasting. At least on my hair the results don't want to stay longer than just a couple of days. What I want to say is that Kérastase Résistance Masque Thérapiste gives me amazingly-looking, full, shiny hair but only until the next shampooing. The funny thing is that even styling is easier after using this mask, yet the shine and smoothness don't want to last. You can find this product on Amazon for £30/$40. Whenever somebody asks me what I want to get as a gift, I ask them to buy me this mask 😉
MY CHOICE NO 4 | Moroccanoil Restorative Hair Mask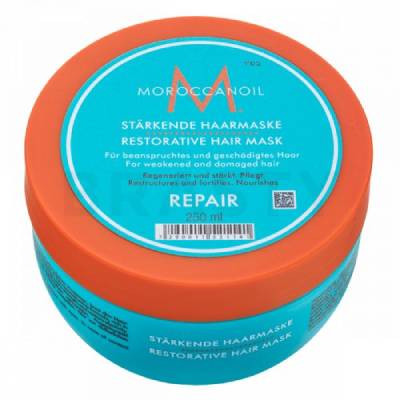 Here is the last of my favorite products that rescued my hair. Indeed, Moroccanoil Restorative Hair Mask knows how to rebuild damaged hair. It makes the strands nourished, shiny and super soft. I like this mask for being enriched with argan oil, which is a plant oil that suits all hair types – it literally does! The downside, however, is that I need to scoop up quite a portion of this mask to evenly coat my hair with it. This means that I keep running out of Moroccanoil Restorative Hair Mask pretty fast. Naturally, I'm not happy with buying it every month, especially since one jar costs around £30/$40.
However, I'm truly happy every time I treat my wisps with this mask. Somehow it makes my hair so… pretty 🙂 soft and easy to style. I can't say that the effects aren't long-lasting because they are. I think that you should be satisfied with the results as well.
Strong & shiny hair with very little effort
I'm sure that if you invest your money in at least one of the masks I've just reviewed for you, and if you try to change your hair care, then you will see significant improvement in the way your hair looks and feels. I wholeheartedly encourage you to read my other hair care-related posts where I describe the amazing procedure known as oil hair treatment. When you combine application of natural plant oils with the weekly use of a hair mask, your hair will look mesmerizing – trust me on that.
Take care of yourself and your loved ones 🙂