What Products Do I Use on Rosacea-Prone Skin? See My 3 TOP Anti-Redness Face Serums
Hey!
In today's post I want to share a product which has saved my sensitive, rosacea-prone skin. It's a face serum.
Obviously, before finding the best facial serum, I wasted lots of money on products which failed totally. To avoid that, keep reading my reviews. There's just one winner, but there are also a few other items I'll write about because they worked very well on my skin too.
What do I pay attention to while shopping for face serum?
If our skin is prone to broken capillaries, then we need to be extremely careful while buying daily-care products. This applies to serums as well. Before I buy it, I read the INCI – the shorter the ingredient list, the better. Of course I search for the one that's rich in powerful, active ingredients. I mostly look for: vitamins C and E, plant extracts, preferably from ginkgo, buckeye or algae. If a product contains panthenol, licorice or green tea, it definitely cuts a fine figure. On the other hand, if it has ethyl alcohol, SLS, many fragrance substances or parabens, I strike it off right away.
Obviously, I also check the volume and price – if it pays to buy it. Finally, I read reviews posted by people who've already tried a product.
My 3 Favorite Anti-Redness Face Serums
NUMBER ONE:

NANOIL ANTI-REDNESS FACE SERUM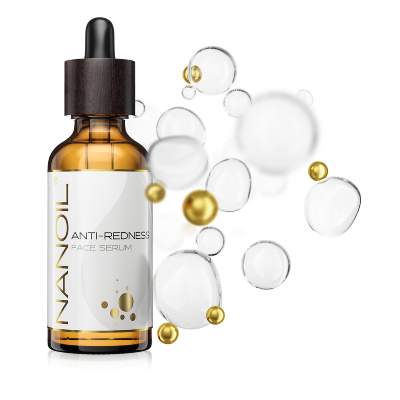 The ingredient list was the first thing I loved about this product. The Nanoil Serum is high in a buckeye extract which is one of the best ingredients you can use on weak capillaries and sensitive skin. It penetrates the dermis to enhance them. I believe it's made my spider veins and red patches less noticeable. There's a superb additional ingredient, the Punarnava plant, which has an amazing antiaging effect, plus extracts from linden and cypress to soothe and hydrate the skin. I love the formula because it's free of needless additives and vegan-friendly. My skin's been much better since I started using Nanoil. Firstly, spider veins and redness are barely there. Secondly, my skin is no longer reactive to external conditions. My face is also perfectly moisturized, smoother and more radiant. I simply love to use it! The serum is easy to use, fast absorbed and it doesn't leave any marks on the face. Nanoil has an attractive price; it seems even more reasonable when you consider a large bottle. My beloved best serum that I use most often.
Learn more: www.nanoil.co.uk
NUMBER TWO:

EXUVIANCE ANTIREDNESS CALMING SERUM
If, apart from broken capillaries, your skin is prone to acne breakouts, then this serum will work brilliantly. Firstly, it has a very short list of natural ingredients. The formula has extracts from buckeye, licorice and algae, and two patented ingredients. The product worked after just one use, soothing the most irritated areas. Over time, it made spider veins and redness diminish. Additionally, it's a good moisturizing agent leaving the face softer. The texture is what I don't like though. It resembles a thick cream and takes long to sink in, and that's why I had to cut it out of my morning routine. It works well as a night serum though. I'd say the EXUVIANCE ANTIREDNESS CALMING SERUM is mid-price.
NUMBER THREE:

MEDIK8 CALMWISE SERUM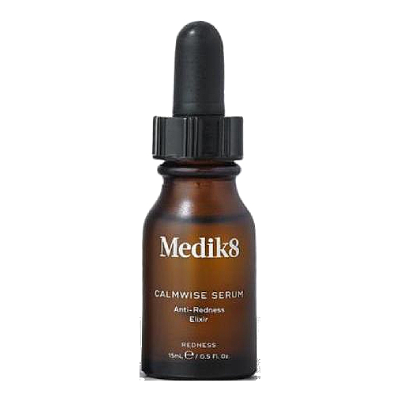 It's another serum that does its job quickly. It didn't take long to improve my skin tone and make dark spots less visible. Over time, it lessened the spider veins and redness too. The added sage extract has an antibacterial effect and reduces redness. Similarly to the other products, the Medik8 Calmwise Serum moisturizes and nourishes the skin too. It doesn't do anything unusual but it's definitely the effect we want from a calming serum. I must say about one flaw, namely, the size. The bottle houses only 15 ml of the serum so I could only use it topically. On the other hand, it makes a good travel-size serum. The price would be okay if the product was bigger.
That's the end of the list with my top face serums. Out of all products I've tested, the above three proved to work best, but Nanoil is second to none.
Tell me how you care for your couperose-prone skin and if serum is your daily must-use too. <3